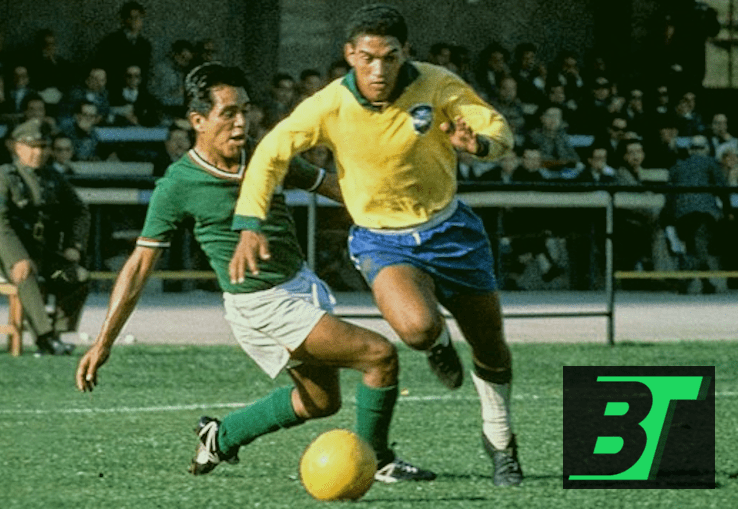 Explore the life and legacy of Garrincha, Brazil's mercurial winger, whose dazzling skills and indomitable spirit left an indelible mark on football.
Early Life: The Inauspicious Beginning
Born Manuel Francisco dos Santos in 1933, in Pau Grande, a suburb of Rio de Janeiro, Garrincha's early life was marked by poverty and physical challenges. His right leg was bent inwards, and his left leg was six centimeters shorter and bent outwards. Yet, these never impeded his football journey; they instead contributed to his unique dribbling style.
Rise to Stardom at Botafogo
Garrincha's journey to football stardom began with Botafogo, where his raw talent was quickly polished. His dribbling skills, pace, and unpredictability on the right wing became central to Botafogo's successes in the late 1950s and early 1960s.
The Joy of the Game
More than his skills, it was Garrincha's love for the game that endeared him to fans. He played with a childlike joy, often seen smiling on the pitch as he effortlessly danced past defenders. His style was not just effective; it was entertaining, earning him the affectionate nickname 'Alegria do Povo' (The Joy of the People).
Conquering the World with Brazil
Garrincha's international career with Brazil is the stuff of legends. He was a key player in Brazil's World Cup triumphs in 1958 and 1962. His performance in the 1962 World Cup, where he stepped up in the absence of Pelé, is widely regarded as one of the greatest individual displays in the tournament's history.
The 1962 World Cup: A One-Man Show
In Chile in 1962, Garrincha was in his element. Scoring goals, creating opportunities, and mesmerizing opponents with his dribbling, he guided Brazil to their second consecutive World Cup victory. His importance to the team was such that without him, Brazil never won a World Cup match.
Style of Play: The Dribbling Maestro
Garrincha's playing style was characterized by his extraordinary ability to dribble past defenders. He combined close ball control with sudden bursts of speed, often leaving defenders bewildered. His trademark move, the 'cutback', saw him change direction swiftly, a skill that became synonymous with his name.
Legacy: The Tragic Hero
Despite his on-field genius, Garrincha's life off the pitch was marred by personal struggles. His battles with alcoholism and a series of personal tragedies gave his story a bittersweet tinge. Yet, in the hearts of football fans, he remains a symbol of joy and the pure artistry of football.
Conclusion
Garrincha's legacy is a reminder of a time when football was less a sport and more an art form. His life, both tragic and inspiring, epitomizes the beautiful game's ability to bring joy and sorrow. He remains, in the memories of those who saw him play, the epitome of unadulterated footballing grace and the master of the dribble.