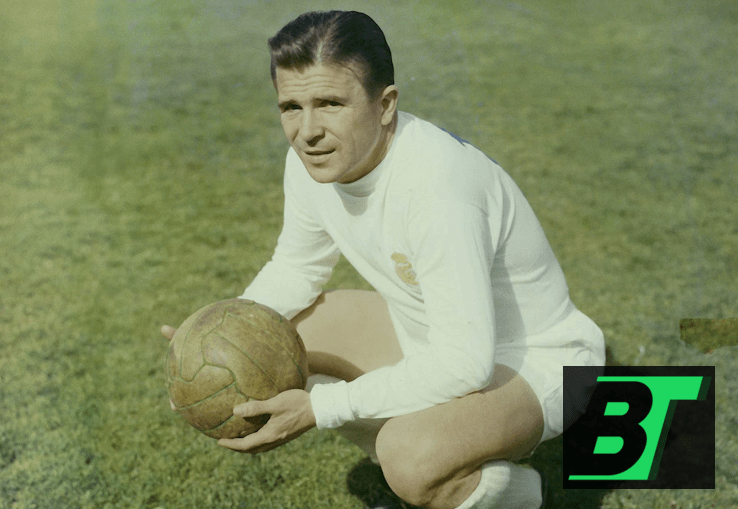 A comprehensive exploration of Ferenc Puskás, one of football's all-time greats and a linchpin in Hungary's Golden Team.
Origins: Kispest's Rising Star
Born in Budapest in 1927, Ferenc Puskás's tryst with football began at a young age in the modest grounds of Kispest, which would later become Honvéd. Under the tutelage of his father, who was also the club's coach, young Puskás quickly developed into a formidable forward, demonstrating an uncanny ability to find the back of the net.
Honvéd and the Making of a Legend
At Honvéd, Puskás's reputation grew rapidly. His lethal left foot, close ball control, and acute tactical mind made him a standout player, not just in Hungary but across Europe. During his time with the club, Puskás led them to multiple league titles, solidifying his place as a Hungarian footballing icon.
The Mighty Magyars
Puskás's brilliance wasn't confined to club football. He was the beating heart of the Hungarian national team, often referred to as the 'Mighty Magyars'. This team, with Puskás at its helm, dominated international football in the early 1950s, remaining unbeaten for 31 consecutive games. Their tactical prowess, fluidity, and offensive power made them a force to be reckoned with.
The 1954 World Cup Heartbreak
Despite their dominance, the 1954 FIFA World Cup eluded the Mighty Magyars. In what is considered one of the greatest upsets in football history, Hungary, led by Puskás, lost to West Germany in the final. This was a game where Puskás showcased his indomitable spirit, playing and scoring despite a hairline fracture in his ankle.
From Budapest to Madrid
Following the Hungarian Revolution in 1956, Puskás's career took a pivotal turn. He moved to Spain and joined Real Madrid, a club where his legendary status found a new dimension. Alongside players like Alfredo Di Stéfano and Francisco Gento, Puskás created a period of dominance for Los Blancos, winning numerous La Liga titles and European Cups.
Puskás at Real Madrid
In the Spanish capital, Puskás's goal-scoring prowess continued to shine. He became an integral part of a team that dominated European football. Some of his most memorable moments came in European Cup finals, including a hat-trick in the 1960 final against Eintracht Frankfurt, a game often hailed as one of the greatest in football history.
A Legacy Beyond the Pitch
Ferenc Puskás wasn't just a footballer; he was a symbol of excellence, resilience, and passion. His leadership on and off the pitch set him apart. Post-retirement, he ventured into coaching, imparting his vast knowledge to a new generation of players. His impact on the game is such that FIFA named an award after him – the Puskás Award, given to the player, male or female, who has scored the most beautiful goal of the year.
Conclusion
The tale of Ferenc Puskás is more than just that of a footballer; it's the story of a national hero, a global icon, and a true ambassador of the beautiful game. From the bustling streets of Budapest to the grandeur of Santiago Bernabéu in Madrid, Puskás's legacy remains etched in the annals of football, a testament to his enduring genius and undying love for the sport.
This article provides a detailed journey of Ferenc Puskás's illustrious career, capturing his essence both in Hungary and on the international stage, with a particular focus on his contributions and legacy.