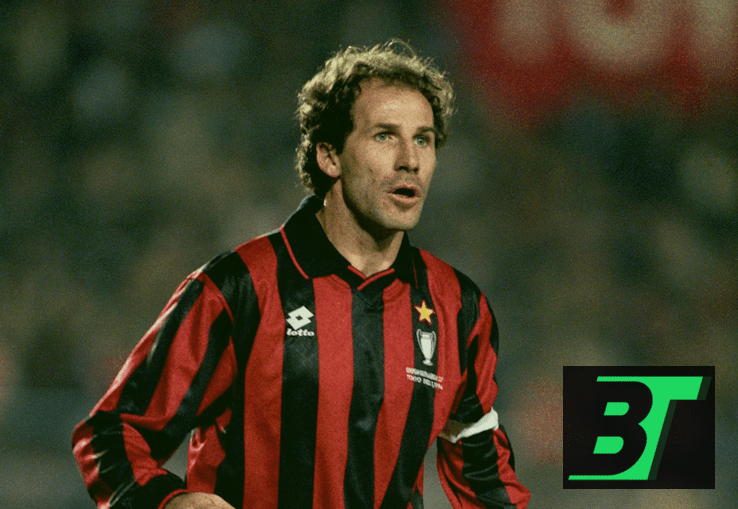 A comprehensive dive into the legendary career of Franco Baresi, AC Milan's iconic captain, and an unwavering defensive stalwart.
Introduction
Throughout football's storied history, few players have personified club loyalty and defensive genius like Franco Baresi. A one-club man, Baresi's name is synonymous with AC Milan, and his legacy at San Siro is the stuff of legends.
Early Days: A Rossonero in the Making
Born in Travagliato, Italy, in 1960, Baresi's love for football was evident from a young age. The San Siro's beckoning was irresistible, and at the tender age of 14, he was enrolled in AC Milan's youth system, marking the beginning of a lifelong romance.
First Team Ascent: Rising Through the Ranks
By 1977, a 17-year-old Baresi was ready to make his senior debut for AC Milan. This initiation was more than just a match; it was a proclamation of the arrival of a future club icon. Over the next few seasons, he would cement his place in the heart of Milan's defense, displaying maturity beyond his years.
The Captain's Armband: A Natural Leader
It wasn't just Baresi's defensive prowess that stood out; his leadership qualities were unmistakable. In 1980, at just 20, he was handed the captain's armband, an honor he would wear with pride for the next 15 years. Under his stewardship, AC Milan embarked on one of their most successful eras.
Champions of Europe and Beyond
Under Baresi's captaincy, AC Milan clinched multiple Italy Serie A titles, but it was in Europe that they truly showcased their dominance. With Baresi as the defensive lynchpin, Milan won the European Cup/UEFA Champions League thrice, ensuring their place among Europe's elite.
The Art of Defending: Baresi's Style
Franco Baresi was not just a defender; he was an artist of interceptions, tackles, and clearances. His reading of the game was unparalleled, allowing him to anticipate threats before they materialized. Whether it was a last-ditch tackle or a perfectly timed interception, Baresi's actions on the pitch were a masterclass in defensive brilliance.
The Libero Role
While primarily a centre-back, Baresi was also adept at playing the 'libero' or 'sweeper' role. This flexibility made him a manager's dream, allowing tactical innovations and adaptability in different game situations.
The International Stage: Azzurri Glory
Beyond the club arena, Baresi was an integral part of the Italian national team. Representing the Azzurri in three World Cups, his pinnacle came in 1982 when Italy was crowned world champions. Although he was a young member of the squad, Baresi's contributions were invaluable.
Retirement and Legacy
By 1997, after 20 glorious years at AC Milan, Baresi decided to hang up his boots. His farewell at San Siro was an emotional affair, with fans and players alike paying tribute to their departing hero. In honor of his unparalleled service, AC Milan retired the number 6 jersey, an enduring testament to his legacy.
Coaching and Beyond
Post-retirement, Baresi ventured into coaching, taking up roles within AC Milan's youth setup. While his coaching journey was not as illustrious as his playing days, his passion for the game and love for AC Milan remained undiminished.
Conclusion
Franco Baresi's journey from a young boy in Travagliato to the indomitable captain of AC Milan is a testament to dedication, passion, and sheer footballing brilliance. His legacy is etched not just in the trophy-laden cabinets of San Siro but in the hearts of countless Rossoneri fans worldwide.