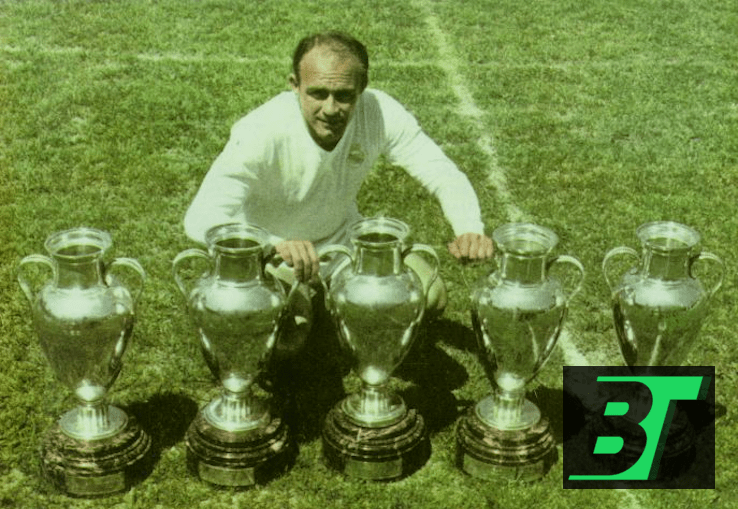 A comprehensive look into the life, triumphs, and unparalleled career of Alfredo Di Stéfano, a colossus of football history.
Beginnings in Buenos Aires
Alfredo Di Stéfano's journey began in Buenos Aires, Argentina, where the budding footballer navigated the city's bustling streets and chaotic pitches. Born on July 4, 1926, the fiery passion for football in this South American country was the ideal crucible for nurturing his prodigious talent.
The River Plate Chapter
Di Stéfano's foray into professional football commenced with River Plate. Here, his reputation burgeoned as he displayed a remarkable skill set, netting goals and crafting plays with astounding dexterity. Soon, the "Blonde Arrow" moniker became synonymous with his name, a tribute to his agility, speed, and pinpoint accuracy on the field.
Making of the Maestro
While River Plate was instrumental in shaping Di Stéfano's early career, his stint with Millonarios in Colombia further honed his skills. Facing varied oppositions, he adapted, evolved, and emerged as a football maestro, ready to conquer the European circuits.
Real Madrid and European Hegemony
Di Stéfano's arrival at Real Madrid in 1953 marked the beginning of a golden era for the Spanish giants. With him at the helm, Real Madrid not only dominated Spain but also established a stranglehold over European football. They clinched five consecutive European Cup titles from 1956 to 1960, a record that remains untouched.
The 1960 European Cup final against Eintracht Frankfurt is etched in football folklore. With the correct score reading an unbelievable 7-3 in Real Madrid's favor, this game epitomized Di Stéfano's genius. His hat-trick on that fateful night at Hampden Park in Scotland remains a timeless testimony to his prowess.
A Journey Across Borders: International Career
Di Stéfano's international journey is a narrative of complexity and intrigue. He adorned the jerseys of three national teams: Argentina, Colombia, and Spain. While he displayed sublime football for each nation, a World Cup trophy eluded this maestro, one of the game's poignant ironies.
Unyielding Versatility
Di Stéfano's game was characterized by an unparalleled versatility. Unlike many of his contemporaries, he wasn't restricted to a singular position. Whether orchestrating plays from the midfield, thwarting opponents as a makeshift defender, or piercing through defenses as a forward, he was omnipresent, making him one of football's most complete players.
From Player to Mentor: The Managerial Stint
Retirement didn't distance Di Stéfano from football. He transitioned to management, guiding teams with the same dedication and fervor. Though his managerial career was a roller-coaster of highs and lows, his teachings and tactical acumen left an indelible mark on players under his tutelage.
A Lifelong Bond with Real Madrid
Di Stéfano's relationship with Real Madrid transcended beyond his playing and managerial days. As an honorary president, he was a perennial figure at the Santiago Bernabéu, guiding, mentoring, and embodying the values of Los Blancos.
Conclusion: The Enduring Legacy
Alfredo Di Stéfano's impact on football isn't confined to records, trophies, or iconic moments. It's woven into the very fabric of the sport. His belief in the game's beauty, his relentless pursuit of excellence, and his unparalleled versatility set him apart. The "correct score" of 7-3 might be a historic highlight, but Di Stéfano's legacy is a saga of countless moments, lessons, and inspirations that continue to enlighten football enthusiasts worldwide.